NATIONAL BOARD OF DIRECTORS (BOD)
MINUTES AND REPORTS
The links below will take you to the BOD minutes from the current year, as well as current year Board Member and committee reports and [from time to time] other documents and reports pertaining to BOD business.
---
MEETING MINUTES: Calendar year 2020

January 2020:

*No meeting of full board held




April 2020:

April BOD Minutes (held online in a 3 day session due
to corona-virus restrictions)



July 2020:


October 2020:
---
BOD REPORTS: Officer, Director, and National Committee Reports:
CALENDAR YEAR - 2020:
April 2020 - Officers & Regional Directors (If there is no link, there was no report filed by that officer).

April 2020 - Committees and Programs (If there is no link, there was no report filed by that committee chair)
---

TO READ PAST YEARS BOARD OF DIRECTOR MEETING MINTUES CLICK HERE.
---
BOARD OF DIRECTORS - TRAINING AND EDUCATION:
In an ongoing effort to ensure that AVVA National Leaders are proficient in the policies, procedures, and programs of our organization, periodic online educational/refresher courses are made available for our Regional Directors.  Below is a composite of participation. (This chart will be updated as classes are held.)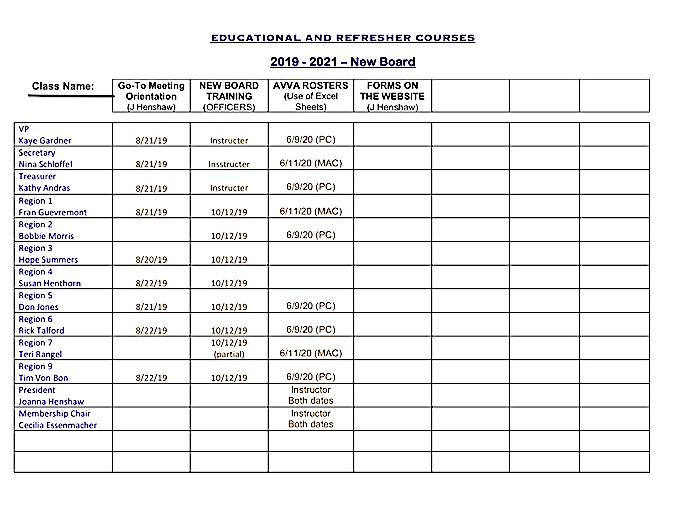 Classes are also offered to deputy regional directors. Upcoming class names and schedules will be posted on the chart as the information becomes available. If you are a deputy regional director, and are interested in attending the training, please contact nschloffel@avva.org.