WELCOME TO AVVA
Associates of Vietnam Veterans of America, Inc. (AVVA) is a national nonprofit membership and service organization. Working through the more than 600 local Chapters of Vietnam Veterans of America, and working independently, AVVA supports the needs of all Veterans, their families, and their communities.
On this website you should be able to find almost any information you may need regarding the basic functions of AVVA. Please check out all of the links and various pages in this site to learn more about AVVA and your connection to us.
---
THE INFORMATION FOR THE 2018 NATIONAL AWARDS HAS BEEN POSTED! SEE THE ORANGE LINK ON YOUR LEFT
---

2018 LEADERSHIP CONFERENCE AND
PROJECT FRIENDSHIP INFORMATION!
---
AVVA CONTRACTS WITH THE AGENT ORANGE STORE!
AVVA now has an agreement with The Agent Orange Store. This website offers a number of items regarding Agent Orange awareness. If you type 'AVVA' in the comments section of your order, AVVA receives a donation. Go check out the website at: The Agent Orange Store today!
---
2017 PROJECT FRIENDSHIP!
AVVA is proud to announce that we collected more than $15,000.00 for this year's Project Friendship recipient, Volunteers of America, Greater New Orleans! This is more than $3,000.00 above our original goal of $12,000.00. Thanks to all who donated. This money will be used to help Veterans all over the New Orleans area. GREAT JOB MEMBERS!!!
---
Great News! - New Partnership with MVCN
Military and Veteran Caregivers Network:

Nearly 6 million Americans care for wounded, ill and injured military service members and veterans of the pre- and post-9/11 eras. These "hidden heroes," which include parents, spouses, children, extended family members, friends and battle buddies, are often overwhelmed. They face significant challenges including: scattered resources, isolation, poor health and emotional stress. The MVCN supports caregivers of all ages, eras and stages, offering peer support and access to partner organizations' resources and services, with the goal of increasing caregivers' connectedness, hopefulness, wellness, knowledge and skills.
If you are any kind of caregiver, you will most likely find wonderful support from the MVCN.

---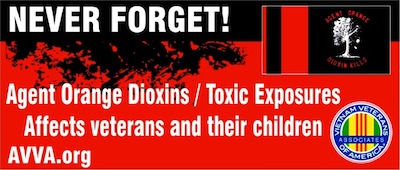 Associates of Vietnam Veterans of America has a new Agent Orange Awareness Billboard! The billboard is located on I-40, East bound at mile maker # 68, out from the Jackson, TN area toward Nashville, TN.
For more information on the affects of Agent Orange, visit: VVA Agent Orange Info
---


VISTA? WHAT IS VISTA?
---