WELCOME TO AVVA
Associates of Vietnam Veterans of America, Inc. (AVVA) is a national nonprofit membership and service organization. Working through the more than 600 local Chapters of Vietnam Veterans of America, and working independently, AVVA supports the needs of all Veterans, their families, and their communities.
On this website you should be able to find almost any information you may need regarding the basic functions of AVVA. Please check out all of the links and various pages in this site to learn more about AVVA and your connection to us.
---
Currently in Congress
AVVA supports The Toxic Exposure Research Act of 2015 and the Military and Veterans Caregivers Service Improvement Act of 2015.
Click here to read the letters sent to various members of congress by AVVA national
---
THE 2016 AVVA PROJECT FRIENDSHIP RECIPIENT:
This year we had chosen the Tucson based Esparanza En Escalante program for homeless Veterans. This organization helps transition Veterans back into their communities. AVVA National is proud to announce that our members raised $11,016.00 for this organization! This is our biggest ever Project Friendship donation. Thanks goes out to all of the AVVA and VVA members who donated or who obtained donations. Click here, to see the letter sent to us by the Esparanza En Escalante program.
---
A DEVASTATING LOSS TO AVVA
AVVA morns the passing of our National Vice-President, Cathy Keister. Cathy was dedicated to veterans and their families. She was especially passionate about the remodeling of the In-Memory Plaque. She was there for anyone who needed her. She was devoted to her family and her friends. Mostly. she worked very hard, to help AVVA move forward into the future, and to help with veterans' issues. Many of us loved her a lot and she will leave a huge hole in our hearts. To the best of my knowledge her family has requested that, in lieu of flowers etc., donations could be sent to the In-Memory Plaque Project. (Funded by the National Foundation for Veterans and Families) http://www.nfvf.org
Cathy - our friend, and our colleague, you will be missed more than words can express.
---
| | |
| --- | --- |
| | |
| Cathy with President Sharon Hobbs, presenting our wreath at The Wall. | |
| | |
| | |
| Cathy's biggest passion was the In-Memory Plaque. She took care of it every chance she had, and has been working with her team to get it fixed for 3 years. Because of her, we have made great progress with it. | |
| | |
| | |
---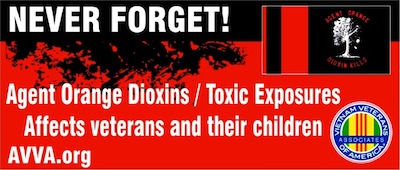 Associates of Vietnam Veterans of America has a new Agent Orange Awareness Billboard! The billboard is located on I-40, East bound at mile maker # 68, out from the Jackson, TN area toward Nashville, TN.
For more information on the affects of Agent Orange, visit: VVA Agent Orange Info
---


VISTA? WHAT IS VISTA?
---