WELCOME TO AVVA
Associates of Vietnam Veterans of America, Inc. (AVVA) is a national nonprofit membership and service organization. Working through the more than 600 local Chapters of Vietnam Veterans of America, and working independently, AVVA supports the needs of all Veterans, their families, and their communities.
On this website you should be able to find almost any information you may need regarding the basic functions of AVVA. Please check out all of the links and various pages in this site to learn more about AVVA and your connection to us.
---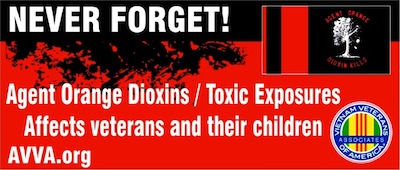 Associates of Vietnam Veterans of America has a new Agent Orange Awareness Billboard! The billboard is located on I-40, East bound at mile maker # 68, out from the Jackson, TN area toward Nashville, TN.
For more information on the affects of Agent Orange, visit: VVA Agent Orange Info
---
IMPORTANT MEMBERSHIP APPLICATION INFORMATION!
AVVA HAS A NEW ADDRESS FOR MEMBERSHIP APPLICATIONS AND RENEWALS!!!
All Membership Applications, whether new members or renewals, MUST be sent to the following address:
Monument Bank
AVVA Lock Box
8602 Colesville Road
Silver Spring, MD 20910
If your applications are not sent to this address they will be returned to you as "Undeliverable". We have sent out notices to every venue we have access to. Please make note of this change.
Thank you,
National Membership Chair

---
VISTA? WHAT IS VISTA?
---
ABOUT THE 2014 LEADERSHIP AND EDUCATION CONFERENCE:
(Updated: Sept 2014)
The VVA/AVVA National Leadership and Education Conference was a success. AVVA celebrated 15 years as an organization, and it was great fun! AVVA also launched our new AVVA VISTA program, wherein you can log and be credited for all of your volunteer hours, as an AVVA member. See the announcement above for the link.
This year our Project Friendship brought in more than $7300 for our chosen charity. The Shalom Home was a deserving choice, and we hope they will continue their service to their community for years to come.
---
SHOP.COM - AN AVVA FUNDRAISING SOURCE!
Click here, to learn how AVVA's Shop.com portal can make money for you, AND for AVVA.